Mike Matte the Marathon CEO
Interim CEO, Keynote Speaker and Leadership Coach
Transformational leadership
Secrets of a marathon CEO
Mike Matte runs companies, he runs high perfomance teams, he runs his life... and he runs marathons.
Discover the secret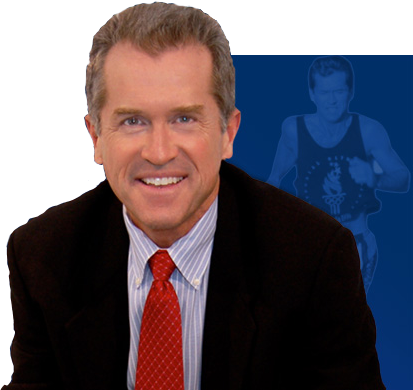 Who is Mike Matte?
As soon as you see Mike Matte enter a room you will feel his energy, enthusiasm and his passion for life. In 1982 Mike was branded The Marathon CEO by his first boss at ADT and has been turning losers into winners time and time again. Today Mike Matte is a transformational leadership coach who is running companies on an interim basis and is passionate about sharing his turn-around secrets and leadership principles.
Mike has spent the last 25 years as a CEO, president or general manager of over 44 companies and business units. His ability to turn them around in less than two years has provided him with a remarkable record.
More about Mike Matte
Mike in the news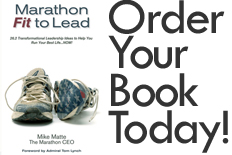 If you would like the book signed
please send me an email with your order number and to whom it should be signed.
Latest blog posts
Happy New Year
Giving Gifts
Naughty or Nice
The Force Awakens Every generation has a story
Testimonials
"Mike Matte is a fantastic speaker who inspired and energized my employees to grow our company and take it to the next level. He helped us to understand that by becoming "marathon fit," we improve our own lives as well as the performance of our company. In this book, Mike shares lessons that will help you to run your best life." Phil Morabito, President & CEO
Pierpont Communications
"Mike was awesome – He was the most effective seminar leader I have heard in 21 years of attending workshops." Marty Cook
IFM Manufacturing
"Mike's presentation on individual leadership was outstanding and inspired our employees to take action...they gave him a standing ovation and internalized his passionate message." Ed Nollinger, VP
ADT Security Systems
Quotable Mike
"Employees don't need a "Boss" they need a LEADER." Mike Matte
"Most companies are over managed and under led." Mike Matte
"If you believe you're the smartest guy in the room you're in trouble." Mike Matte
"Just showing up at the marathon is half the battle." Mike Matte
"The manager who leads with email doesn't understand communication." Mike Matte
"Marathon CEO Leadership is about leadership for the long run – your lifetime." Mike Matte

What is transformational marathon leadership?
Picture yourself. It's Sunday night and tomorrow is your first day as the new CEO of a company that is struggling to stay afloat. You have been brought in to turn a loser into a winner. What would you do? Where do you begin? Who do you trust? Well, that is the exact situation Mike has faced over 40 times in his life.
More about Mike's principles